Every Friday, one of your librarians is reading an excerpt from a book we're excited about live on Facebook. Check us out here at 2:00 PM on Fridays! We'll update this page with all the titles we talk about, so you can check back and find your next great read.
Jessica K. reads: Three Things About Elsie by Joanna Cannon. Find it in the catalog here and on Overdrive here.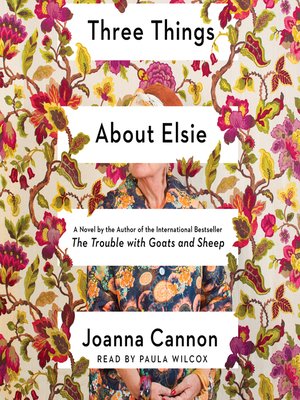 ​
Jessica says: "Three Things About Elsie centers on 84-year-old Florence, and her best friend, Elsie. When a new resident moves into their senior living home, Florence believes he is not who he says he is. Rather, she thinks he may be someone from her and Elsie's past - someone who is deeply tied to a troubling secret. This book is a beautiful reflection on friendship, with enough mystery and charm to keep you turning pages."
Three Things About Elsie is our pick for Third Tuesday Book Club on February 16. Sign up here today!
Martha S. Reads: Trouble the Saints by Alaya Dawn Johnson Find it in the catalog here and on Overdrive here.
​
Martha says: "Trouble the Saints is an urban historical fantasy about mob life in 1930's Harlem, told through the eyes of Phyllis LeBlanc. Phyllis is an assassin in the employ of crime boss Vincent. Phyllis is no run-of-the-mill assassin, however: she's gifted with the Hands, which makes her particularly skilled at killing (other Hand gifts include the ability to tell when someone is lying, or heal rather than hurt). In addition to being a moral fable about a killer trying to make good, Trouble the Saints is about racial relations in America; Phyllis, you see, can pass as a white woman. A story about identity, the underworld, violence, and love, Trouble the Saints is a historical snapshot of a pre-war America, dripping with magic and told by a master wordsmith."